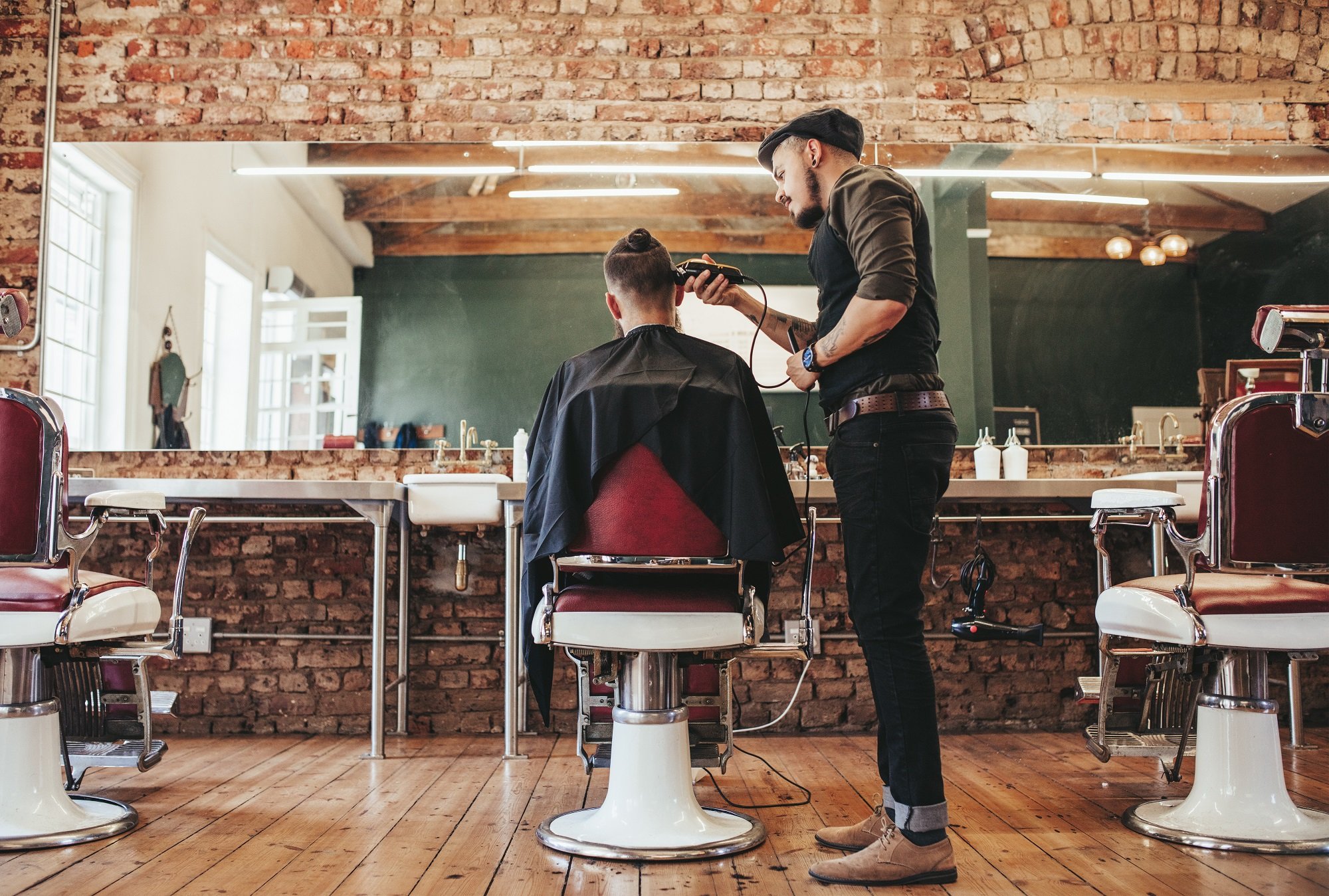 The barber is back in fashion! Men's hairdressing studio, where expert employees take care of men's haircut, trimming beards and mustaches in the latest fashion. Welcome to Simple barber shop.
The first hair salon at Supernova that is entirely meant for men
SIMPLE barber shop vision is simple - to create a space that is entirely dedicated to men. As soon as you step into the barber shop, in Supernova Nova Gorica shopping centre, it will be clear to you that this is a man's world - everything from equipment, magazines, products, music is adapted to men.
SIMPLE barber shop team is specialized in men's haircuts and hair styling, beard shaving and mustache trimming. All for the perfect look of a man's face. Young barbers regularly improve and create new ideas at professional seminars, thus they are always up to date with new trends in beard and men's hairstyles. Everything from modern »fade« haircuts, especially popular with younger boys, to more classic »pompadour« hairstyles with back combed hair - SIMPLE barber shop is the right address for a well-groomed man. It offers »old school« shaving with a real razor to all those who want adrenaline and experience like in mafia movies, and children's haircuts for the youngest "guys".
Customers are offered only the best professional beard and hair care products. At SIMPLE barber shop you can also buy everything from care balms and beard oils to shampoos, gels and styling creams.
SIMPLE barber shop - the first Slovene barber chain in shopping centres
The chain of SIMPLE hairdressers salons opened its first salon in 2001 in Nova Gorica, that's why it is not surprising that the first hairdresser and barber studio for men opened its doors in Supernova Qlandia Nova Gorica shopping centre in 2019. The success story of specialized male hairdressers soon spread to other parts of Slovenia. You can currently visit SIMPLE men's world in Koper and Maribor, and more barber studios are planned for other Slovene shopping centres.
SIMPLE barber shop follows the philosophy of SIMPLE, the largest chain of hairdressers salons in Slovene shopping centres. Haircuts at SIMPLE salon is based on current fashion guidelines while hairstyles are designed in order to be easily maintained and taken care of even at home. The various techniques of colouring and styling hair, beards and mustaches, mastered by the salon top hairdressers, add something more to men's styling, making you feel a new freshness in your look. Since there are no waiting lists in SIMPLE barber shop, fast and affordable, but at the same time quality services, are available to you.